WazirX is India's most trusted Bitcoin Exchange where anyone can Buy, Sell & Trade BTC, ETH, XRP, LTC, and more cryptocurrencies, now open for all countries.
Information
Website : https://www.wazirx.com
Founded : 2017
Headquarters : Mumbai
Parent organisation : Binance Holdings Limited
Introduction
WazirX is India's leading and trusted Bitcoin Exchange where anyone can Buy, Sell & Trade BTC, ETH, XRP, LTC, and more cryptocurrencies, now open for all countries.

WazirX provides an interface for users all around the globe. In fields such as crypto trading, and fiat trading. Since 2017, WazirX has achieved the coveted Top #1 Status in 24hr trading volume globally.

WazirX even has its own token WRX that you can use for paying transaction fees. Wazirx offers BTC, ETH, USDT, and WRX trading. In other words, it has provided services for hundreds of cryptocurrencies and tokens worldwide.
Features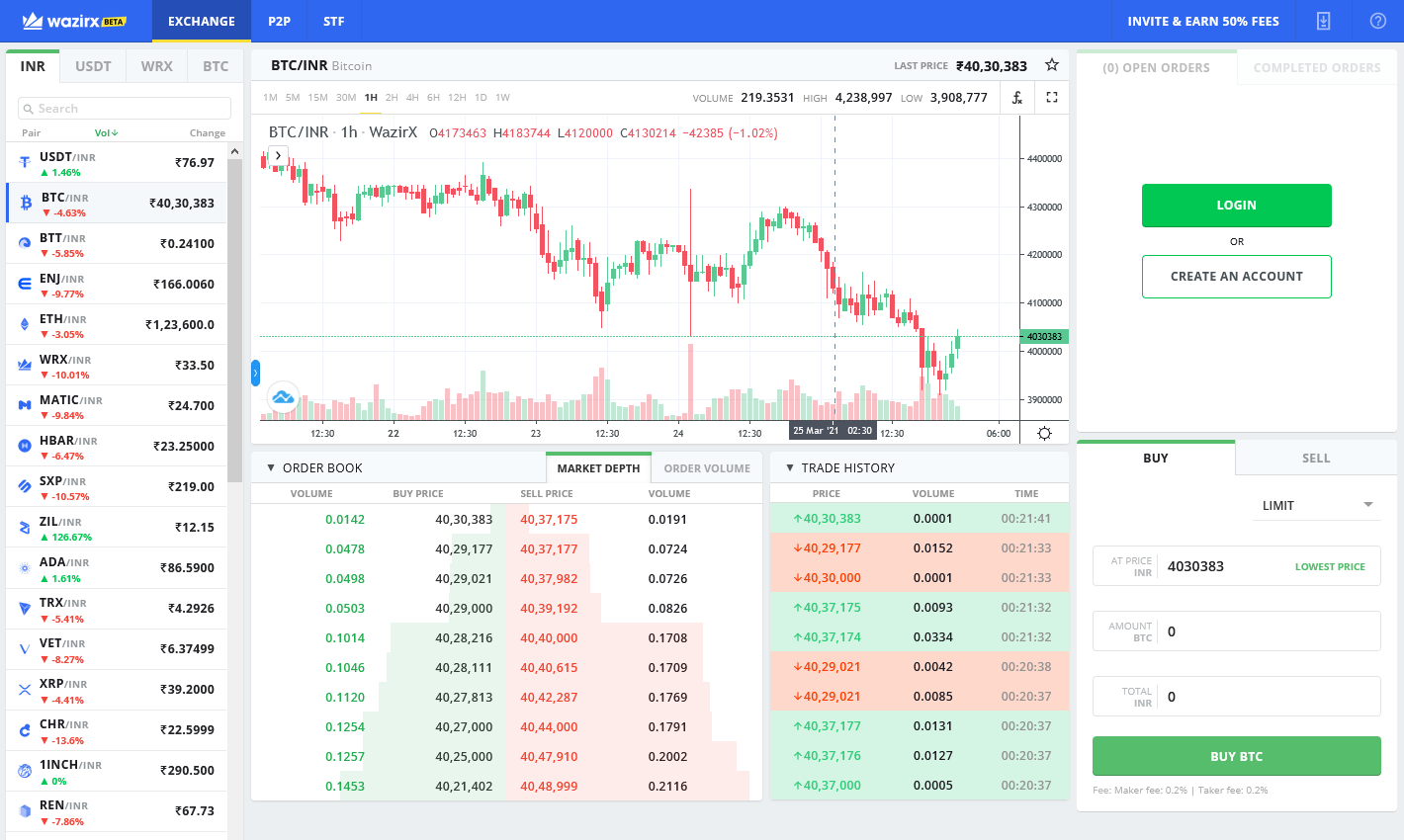 Anyone can Join WazirX and start investing in cryptocurrencies by simply buying Bitcoins using Indian Rupees. WazirX was established with the purpose of bringing cryptocurrency to individuals. The exchange offers quick exchange of fiat currency to cryptocurrencies. The support of fiat deposits makes WazirX one of the best 'entry-level exchanges'.Multi-Platform Support
Multiplatform Support
WazirX trading platform can be accessed on Web, Android smartphones, Apple iOS mobiles, Windows, and Mac systems.

You simply need to download the app from the Google Play Store or Apple Stores and get started. You can even directly login to the trading platform of WazirX from their website.
Spot Trading, and Exchange
WazirX Exchange is a spot market where you can trade over 70 cryptocurrencies. The Exchange has three segments based on currency pairs, namely USDT, BTC, and INR as the base currency.

You can trade in any of the currency exchanges.
STF (Smart Token Funds)
STF is for new cryptocurrency traders who need hand-holding.

New crypto investors can find smart and experienced crypto traders who can help them grow their portfolios in return for a certain percentage of profit earned.
Wazirx P2P
WazirX uses a specialized P2P system where buyers are directly connected to the sellers, thereby eliminating the need to go through order books as in other P2P transactions. Here, WazirX acts as the escrow and ensures that a smooth transfer of funds takes place between the parties involved.
WRX Token
WazirX has a native cryptocurrency named WRX that acts as the backbone for all the activities done on the exchange. The WRX cryptocurrency is capped at 1 billion units.
Trading
With the WazirX trading platform, traders can easily trade with multiple cryptocurrencies as well as fiat currency. Instant Fiat deposit and withdrawal give more trust and confidence to users.
FAQs
What is WazirX?
WazirX is a cryptocurrency exchange based out of India that helps you trade in more than 70 cryptocurrencies across the globe. WazirX has been acquired by the Binance and allowed to represent Binance in India.
Is WazirX Safe?
Account security is a top priority at WazirX.

WazirX employs two-factor authentication (2FA) based on Google app or mobile SMS. So that you know that your account is safe.
What is the minimum withdrawal limit in WazirX?
The withdrawal limit differs from cryptocurrency to currency. Details of minimum withdrawal limits can be found on this page.
WazirX customer care number?
The customer care number is not available on the WazirX website. You can reach them using the request form on the support page.
Is WazirX legal in India?
After the recent Supreme Court ruling WazirX is totally legal and the platform can be used to buy/ sell a host of cryptocurrencies.
Conclusion
WazirX crypto exchange is a safe, fast, and convenient crypto platform available on smartphones, Windows, and Mac. The platform lets you access more than 70 cryptocurrencies through P2P, STF, and Exchange platforms.

WazirX crypto exchange helps you diversify your investment portfolio. Crypto enthusiasts in India should open a WazirX account today!
You can start trading cryptocurrencies on WazirX here.