What is Masmic?
Masmic Platform is offering an online global marketplace for crowdsourcing. In other word it includes user Attention, Knowledge, Ideas, and Creativity. Therefore, on Masmic, anyone can get a query solved on time by asking questions. Also platform have opened up with a new innovative way for users. Where anyone can create a micro-gig economy, to earn passive income online.
Brief Information
Website: https://www.masmic.com
Founded: Sep 1, 2018
Based In: Gurgaon, Haryana, India
Categories: Internet
Technology: Stellar Blockchain
Number of Employees: 1-10
Introduction
Masmic will make this possible! Becasue, there is no way for global users to collaborate online for micropayments. And most importantly gig economy.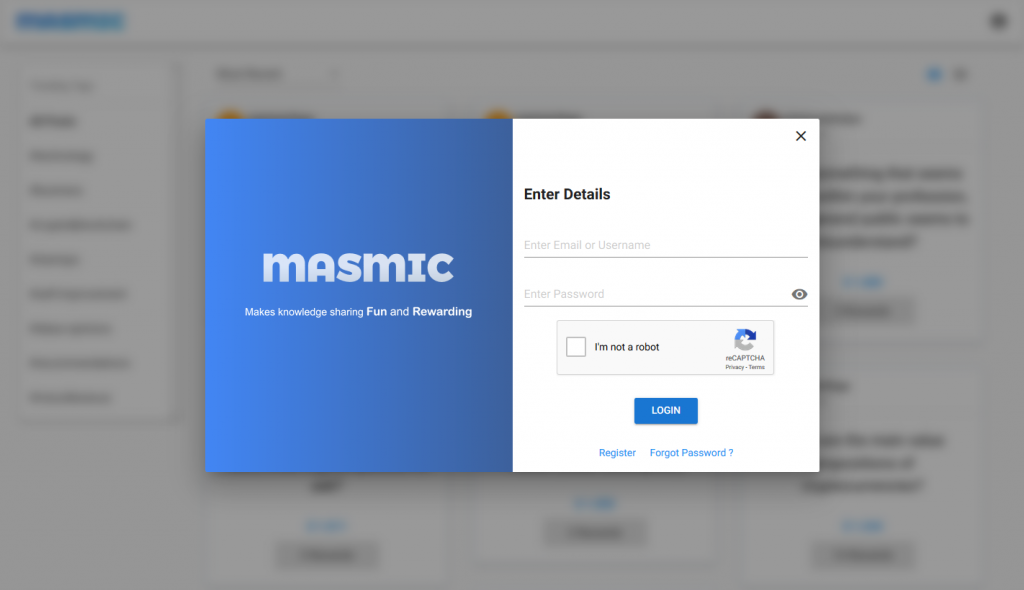 Masmic Platform offering a blockchain-based knowledge contribution platform by distributing rewards. On the other hand, these rewards will be in the form of micropayments. So, everyone has a great choice and a chance to get rewarded through contributions.
This is a great solution to interact with a potential individual at a global level. And use a decentralized platform to distribute micropayments, to the user as rewards. Most importantly, this is based on the voting system build by Masmic.
Requirements
Masmic is based on a completely decentralized platform of Stellar Blockchain. And stellar, itself is a cryptocurrency. So before joining masmic users must have their own XLM wallet address. Anyone can get it from reputed third party wallet services such as Coinbase. If you don't have an XLM wallet, then you can easily join Create own Coinbase Wallet.
Features
Masmic Platform offers innovative technology based on a blockchain.
Where users get rewards to share knowledge. These rewards will distribute according to the user's votes.
This platform gives user interaction with selected topics.
A user can assign rewards to get a quick response flow of value across the globe.
And Masmic make makes a reality for the first time.
Affiliate
Masmic Platform offers an invitation program. So, the user can invite their friends and colleagues to share knowledge.
In addition, Masmic will share 5% of your referred user earnings on any bounty. Every time, for a lifetime!!.
Social
Q & A
Get Started on Masmic there's a lot of things you can do on Masmic, here are some basics which can help you get started. Read more

getting started on masmic

.
Earning on Masmic Masmic makes knowledge sharing fun and rewarding. Here, explained how you earn on Masmic. Read more

earning on masmic

.
How Masmic Works
Announcements
Get the latest news and updates of Masmic. Check announcements.
Conclusion
So, in short, the masmic Platform offers a global power to monetize their ideas. And the micro-gig economy is the ultimate solution. This platform opens up a new innovative way for users to earn passive income online. Currently, there's no way for global users to collaborate online for micropayments.
Masmic will make this possible!
Video
Check out Brief Video Introduction